Help us provide essential preventative care while keeping you and our teams safe!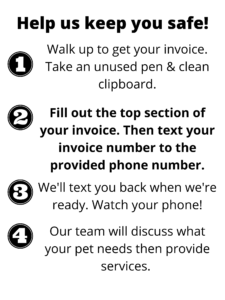 Remember: "1 person, 1 pet". Leave family members & friends at home.
Are you a senior citizen? Schedule your pet's vaccination appointment at our

full-service clinic

and we will NOT CHARGE YOU an office visit/exam fee for your pet's vaccinations. This is because we can take extreme safety measures at our full-service clinic that we cannot take at our vaccination clinics. If you are a senior citizen, please consider postponing your pet's shots or visiting our full-service clinic – NO CHARGE for your pet's exam. Stay healthy & safe!
After speaking with Dallas county Health & Human services, we are planning to provide vaccination clinics in Dallas county starting April 4th! However, we may provide limited services or a limited setup in order to continue social distancing.
We are also hoping to provide vaccination clinics in Tarrant County for the weekend of April 3rd/4th, depending on how well we can provide affordable services while still maintaining safe distances between clients. We may request clients wait in their cars or stay a certain distance apart if we are able to provide services.
Follow our facebook page HERE for updates!
In light of the COVID-19 pandemic, we are introducing some extra precautions to keep our clients and staff safe & healthy.
The nature of our clinics involves our staff interacting with lots of clients and clients gathering together, frequently closer than the recommended 3′. While we want to continue to provide vital preventative care for pets for as long as possible, we are changing how we organize our clinics to minimize risk and allow clients to bring their pets without risking their health.
All staff will be wearing masks, gloves & eye protection.
We will be requesting that clients stay at least 3′ feet apart from each other.
We will also ask for only 1 client per patient, and may request that family members or friends stay in the car.
Checkin and checkout tables will have hand sanitizer, which we will request clients to take advantage of.
As always, we will have pens to fill out paperwork. However, we will ask clients to keep the pen instead of reusing them. If you have a pen, please bring it & use it instead!
If you're feeling sick, stay home!! Feel free to contact us if you have concerns about your pet's health and what care they need – but take care of yourself & others and self-quarantine.
We will be wiping down all surfaces, including clipboards, scale, and tables between clients/patients.
We may ask clients to wait in their car instead of in line at the clinic if we become busy. In the case that we start to have a long line of clients, we will hand out numbers and call clients to wait 3 at a time.
We are also recommending that all staff with elderly or immunocompromised family at home stay home and not work the clinics. This may lead to us being slightly short staffed – we ask for your patience and understanding as we work to keep everyone safe!