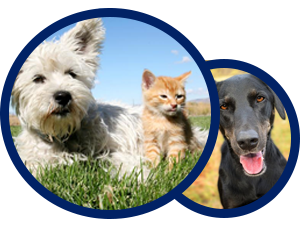 Welcome To Low Cost Pet Vaccinations
Low Cost Pet Vax works across the DFW area to provide low cost pet vaccinations & other affordable pet health services.
Deadly diseases like Rabies, Distemper, Parvo and Lepto must be vaccinated against to protect the safety of your pets (and you!). We provide low cost pet vaccinations across Texas, focused in the DFW area.
Here's the problem:
Too many pets don't get protected against important diseases. Our goal at Low Cost Pet Vax is to change that.
Not only do we provide low cost immunizations, we also provide testing and protection against heartworms, a huge issue in Texas. Finally, we offer low cost microchipping to help you locate your pet if he or she ever gets lost.
At Low Cost Pet Vaccinations, we provide convenient services at affordable prices to keep your little (or big!) ones happy and healthy.
Affordable Pet Vaccinations in Texas: What You Need to Know
How do we work? And how do we provide services at a lower cost?
First, we are a completely mobile low cost pet vaccinations service. We don't have a central location to pay rent on, so we are able to provide very low-cost pet vaccinations and other pet wellness services at a more affordable price.
But, we don't sacrifice quality! Every clinic location has a licensed veterinarian on site. We have trained staff available to answer your questions, discuss your options and administer your pet vaccinations.
Our constant goal is to provide friendly, convenient and affordable pet vaccinations and care. That means making your experience as positive and quick as possible for both you and your pet.
Have a new pet? Not sure what you need? No problem!
We can also answer any questions you might have about what vaccinations and preventive health care your pet needs and what your options are. NO prior appointment or call is required, but we welcome calls (817-282-1000), emails (contact@lowcostpetvax.com), & Facebook messages (facebook.com/lowcostpetvax) if you have questions!
Low Cost Pet Vaccinations Clinic Dates & Locations
We're constantly adding new locations as we expand our services to provide low cost pet vaccinations to as many communities as possible! If you don't see your hometown or city on this list and you think there's a need in your area, please contact us and let us know.
Our schedule at each location is typically 9am – 12pm & 1pm – 4pm on Saturdays and 12 – 4pm on Sundays. To check the details of any location, visit our Locations & Schedules page.
Note: We're constantly adding new locations & updating our schedule for our low cost pet vaccination clinics! Check in often to get the latest or follow us on Facebook. (facebook.com/lowcostpetvax)
First Saturday/Sunday
La Carreta Meat Market, 11500 Elam Rd, Balch Springs, TX 75180 (9am – 12pm)
Pep Boys, 101 W Seminary, Fort Worth, TX 76013 (9am – 12pm)
Westlake Ace, 1705 W Park Row, Arlington, TX 76010 (9am – 12pm)
Pep Boys, 1710 S Buckner Blvd, Dallas, TX 75227 (1pm – 4pm)
O'Reilly's, 2215 S Marsalis Ave, Dallas, TX 75216 (1pm – 4pm)
Pep Boys, 6725 McCart Ave, Fort Worth, TX 76133 (1pm – 4pm)
Sunday 12pm-4pm
Irving Pep Boys, 1950 N Beltline Rd
Second Saturday/Sunday
Saturday 
Dallas Cricket Wireless, 2637 S Hampton (9am – 12pm)
Fort Worth Family Dollar, 3705  E Rosedale (9am – 12pm)
Dallas O'Reilly's, 2072 Singleton Blvd (1pm – 4pm)
Farmer's Branch Westlake Ace, 12895 Josey Ln (1pm – 4pm)
Sunday 
Garland Pep Boys, 2002 Northwest Hwy
Irving Low Cost Pet Vet 3202 W Irving Blvd 
Fourth Saturday/Sunday
Saturday
Farmer's Branch Westlake Ace, 12895 Josey Ln (9am – 12pm)
Dallas O'Reilly's, 2072 Singleton Blvd (1pm – 4pm)
Fort Worth Atwood, 6001 Lake Worth Blvd (1pm – 4pm)
Dallas Carnival Store, 3460 Webb Chapel (1pm – 4pm)
Sunday
Irving Pep Boys, 1950 N Beltline Rd (12pm – 2pm)
Garland Ridgewood Shopping Center, 3031 S 1st Street (12pm – 4pm)
Low Cost Pet Vaccinations
We can provide all of your dog's needed yearly vaccinations, including:
Rabies
Bordetella
DHPP (Distemper, Hepatitis, Parvovirus, Parainfluenza)
Leptospirosis 
And all of your cat's needed yearly vaccinations, including:
FVRCP (Feline Viral Rhinotracheitis, Calicivirus and Panleukopenia)
Leukemia (feline)
If you aren't sure what vaccinations your pet needs, then feel free to check out our guide on what vaccinations to request for your pet or contact us. We can also walk you through your different options in person at one of our vaccination clinics.
Heartworm Prevention
Heartworm in dogs and cats is simple and inexpensive to prevent, but very difficult and expensive to treat. We provide heartworm testing (for dogs) and heartworm prevention(for dogs and cats) at all of our clinics across DFW.
We also provide affordable heartworm treatment at our full-service clinic in Irving, TX.
Heartworms are parasitic worms spread by infected mosquitoes. According to recent research, up to 80% of mosquitoes carry heartworms – and it only takes one bite to cause infection! The most likely exposure times are early in the morning (dawn) and late afternoon (dusk), during peak mosquito times.
1 in 20 dogs that we test at our DFW vax clinics are POSITIVE for heartworms.
1 in 4 cats that have heartworm disease, were indoor only!
Treatment can cost over $1,000 for dogs, and IS NOT POSSIBLE in cats.
Texas is in the top 5 states with the most incidents of heartworm.
How Deadly Is Heartworm Disease?
Heartworm disease is fairly common nationwide but is more so in Texas, with our thriving mosquito population. While there are no initial signs of the parasite, heartworm disease in dogs is usually fatal if not treated within an appropriate time. The heartworms can cause lasting damage to tissue in the heart, arteries, and lungs. Most of the time, heartworms cause death as a result of congestive heart failure.
In short, we strongly recommend that you test your dog annually for heartworms and maintain your dog on heartworm prevention every month for their lifetime. There are several different options for heartworm prevention that we can provide, and we can go over what the best option for you and your dog is. We even have an injectable heartworm prevention that is effective for 6 months.
Deworming
There are two types of worms that commonly infect puppies and kittens (who are the primary victims of intestinal parasites): Roundworms and Hookworms. These are both intestinal parasites that pups often get directly from their mothers.
Roundworms
Roundworms in dogs and cats are primarily a problem of the puppies and kittens. Most often they only cause growth reduction or a failure to thrive by robbing the young of important nutrients. The symptoms are usually mild but can be severe; gastrointestinal upset, vomiting, diarrhea, and even respiratory disease.
Roundworms eggs are usually passed in the feces of infected dogs and other adult dogs are infected by consuming the eggs that are deposited on the ground. However, roundworms can also remain dormant in adult dogs and activate during the last stages of pregnancy to infect puppies. They do so by crossing the placental membrane or infect the puppy through the mother's milk.
Roundworms are a threat to humans as well, especially in unsanitary environments, or even in the children's backyard sandbox that is open to local cats and other critters. Humans are infected by ingesting infective roundworm eggs from their hands, soil, other objects, or even the pet. The larval stage's migration through human body tissues is the cause of disease in people, usually children, and can manifest disease as high fevers, hepatitis, inappetence, loss of weight or persistent cough. Roundworms can also cause blindness in children due to migration through the eyes.
Hookworms
Hookworms are similar to Roundworms in many ways. They, however, cause disease by attaching to the intestinal lining and ingesting blood from the host. This causes gastrointestinal upset but also harms the young puppy or kittens by causing life-threatening anemia due to the loss of blood. Hookworms can also be transferred to pups while still in utero, through their mother's milk, and even by penetrating through the skin. Hookworms can also be transmitted to humans casing a severely itchy skin disease.
Almost all puppies have one or both of these intestinal worms. However, they are very simple to treat with a painless oral dewormer medication, and we offer dewormer in our standard puppy packages.
Tapeworm Injection
Tapeworms are rarer than hookworms and roundworms. However, when a dog does have tapeworms, they're easily diagnosed by examining the dog's feces, which will be flecked with small, white worms about the size of a grain of rice.
Dogs get tapeworms when they ingest an infected flea, the intermediate host for the tapeworm eggs. After a dog ingests a host flea, the tapeworm matures in the dog's intestine and completes its life cycle.
While tapeworms certainly can be gross and annoying, they aren't usually very harmful to dogs. At worst, the tapeworms might cause some mild irritation to your dog's rear end.
Tapeworm in puppies can be more serious, and if you suspect your puppy has tapeworm, we can provide a one-time tapeworm injection for simple and effective treatment.
Microchipping
A microchip is a small device that cannot be separated from your dog and allows animal care facilities (shelters, clinics, etc.) to scan information in the chip and be able to identify the owner, you. We inject these small electronic chips with a hypodermic needle – it's not much more painful or invasive than a normal vaccination (although the needle is slightly bigger).
Microchips will stay with your pet, unlike a collar and tags, and we recommend them for both dogs and outside cats – even more so if your pet likes to take a trip every now and then!
The microchips are "read" when a scanner is passed over them. If your pet ever gets lost or ends up in a pet shelter, then staff will be able to immediately identify you as the owner of the dog.
We also provide flea/tick prevention!
What We Don't Do
Unfortunately, since we're mobile, there are some things that we can't do. At our mobile clinics, we do not provide low-cost spays and neuters due to a lack of facilities.
However, if you're looking for affordable spays and neuters in your area, check out our full-service Irving Low Cost Pet Vet clinic! We provide low cost spays, neuters, dentals and more at Low Cost Pet Vet, located at 3202 W Irving Blvd, Irving, TX 75061.
What Pet Vaccinations Do I Need?
We recommend the following yearly vaccinations for Dogs (in order from most important to least important*):
Rabies
DHPP
Leptospirosis
Bordetella
Cats need fewer vaccinations, with these being the three we would recommend annually:
*We always recommend checking with a vet to figure out the best vaccination schedule! These vaccinations are our standard recommendations. For more information about the vaccinations we recommend, check out our Pet Vaccination Guides or call us at 817-282-1000! 
More About Us
Dr Munsell started Low Cost Pet Vax in 2016 with the mission of providing low cost pet health care for pet owners in a convenient and friendly way.
While we always recommend visiting veterinarians for check-ups when needed, their prices are understandably higher to compensate for facility, equipment and other clinic costs. Although our expert staff has a tremendous amount of experience and knowledge base in veterinary medicine and surgery, we at Low Cost Pet Vax keep your prices low because we focus on preventive pet health care (vaccinations, wellness testing and parasite control), without the overhead of a luxurious facility and expensive equipment.
Dr. Rod Munsell built Low Cost Pet Vax on the ideals of friendly, convenient, affordable service – showing respect to you, your pets, and for your time.
We want to provide the best available, at the lowest prices available.
Pet Health Information
We believe in keeping people informed about general preventive pet health care and the (most affordable) options available to them as pet owners.
If you have any questions you'd like to get answered about general pet health information, specific low cost pet vaccinations that your pet might need, or other questions about Low Cost Pet Vax, then feel free to contact us! We can provide everything from general pet health information to news about low cost pet vaccinations and health care in your area.
Contact us here
A lot goes into keeping your pet healthy and happy, but it doesn't have to cost you an arm and a leg! Contact us to learn more about how to give your loved ones the attention and care they deserve.
Contact us here