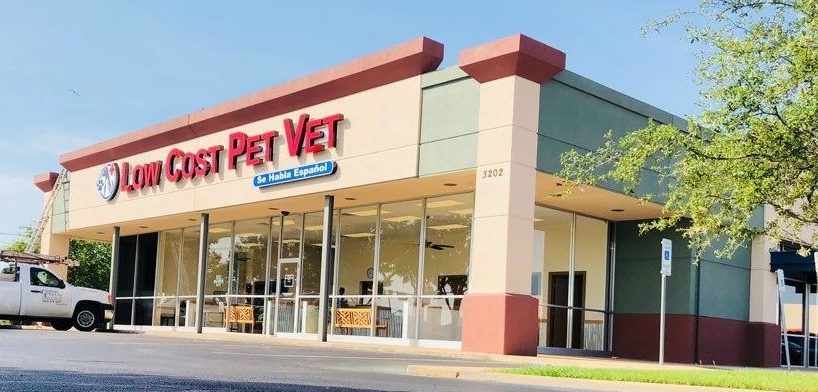 We're excited to announce our FIRST full-service clinic, Low Cost Pet Vet, right in the center of DFW in Irving, TX!
We're open for low cost spays and neuters, dentals, vaccinations, exams, treatment and more!
Low Cost Pet Vet provides affordable veterinary healthcare in Irving and across Dallas-Fort Worth. Our full-service clinic offers an affordable alternative for surgeries, treatments, and other services to keep you and your pets safe & healthy.
How often should my pet visit a full-service veterinary clinic?
Our low cost pet vaccination clinics allow pet owners to protect their pets at affordable prices without having to pay for the overhead of a full-service clinic. There's no charge for an exam or office visit at our mobile locations. However, we also recommend visiting a regular vet annually to check on your pet's health and wellbeing.
Our vaccination clinics are focused on preventative care such as vaccinations and heartworm testing. Because they focus on affordable preventative care, we don't offer comprehensive exams, or other services that our full-service clinic can.
Although our vaccination clinics have awesome well-trained staff and experienced veterinarians, they can't provide the comprehensive care that we can now provide at Low Cost Pet Vet. Our vets do their best with brief checks, but we still recommend annual wellness checks in order to catch sickness and risks to your pet's health early on.
Our discounted Healthy Pet exams ($25*) at our full-service clinic allow you an affordable option for wellness checks for dogs and cats of all ages!
*Our $25 Healthy Pet exams are discounted for wellness and healthy pet visits. For sick pets or more comprehensive care, we charge our regular $39 fee for the exam and office visit.
What services do you offer?
With excellent experienced vets, cutting-edge equipment, and spacious, well equipped facilities, we offer a wide range of services, including:
X-Rays.
Orthopedic surgery.
Ear treatments.
Eye surgery.
Diagnostic exams.
Bloodwork.
Fecal testing.
and much more!
We provide services at affordable prices. For involved treatment plans and all surgeries, we also offer payment plans. We want to work with you to make sure your pet is getting the best care available.
Where are you located?
Low Cost Pet Vet is located at 3202 W Irving Blvd, Irving, TX 75061. We're conveniently located near the Home Depot on W Irving Blvd:
Book your appointment today for the fastest service – call us at 817-617-PETS (817-617-7387) or visit lowcostpetvet.net/request-an-appointment. We're open Mondays – Fridays, 8am – 5pm.
Thanks to the AWESOME clients and pets who have brought us this far! We are thrilled to finally be providing services clients have asked us about so many times.