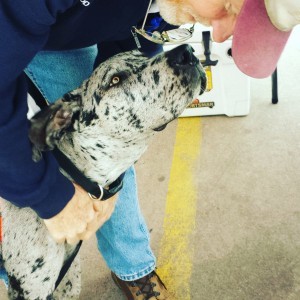 What kind of vaccinations do you offer? Low Cost Pet Vaccinations offers all the vaccinations your dog or cat could need. Take a look here for a comprehensive list of our vaccines.
Do you accept credit card? Absolutely! We can take credit, debit, and cash.
Do you do anything other than vaccinations? We provide heartworm tests and prevention, along with other services such as microchipping, deworming, and nail trimming.
Do you offer flea prevention? Absolutely! We provide both on-site medication that we can provide along with off-site alternatives that we can ship to your address.
Will you spay/neuter my pet? Unfortunately this is not a service we offer. Please see your local veterinarian for spaying and neutering services.
Where are you located? You can find all our locations here; check back often as we are constantly adding new locations!
Do you have a central location? Low Cost Pet Vaccinations works within communities, and isn't based out of a central location or clinic.
When can I get my pet vaccinated? We setup on weekends at various locations throughout the month. You can take a look at our schedule here to see when we will be in your area.
Can I bring in my puppy/kitten to receive vaccinations? Absolutely! However, your animal must be at least 6 – 8 weeks before we can give him or her vaccinations. If your pet has not yet reached that milestone in his/her life, please come and visit us later, when we're next in your area.
Do I need to bring my pets' vaccination record? It's up to you! Whether you bring your pet's vaccination record or not, we can recommend the vaccines that your pet might be due for and what your options are.
Don't see your question here? Contact us at (817) 282-1000, email us here, or contact us on Facebook at http://www.facebook.com/lowcostpetvax.