Parasites living in your pet's body are not only unseemly, they can cause serious health issues. Learn about parasite prevention and how to protect your pet.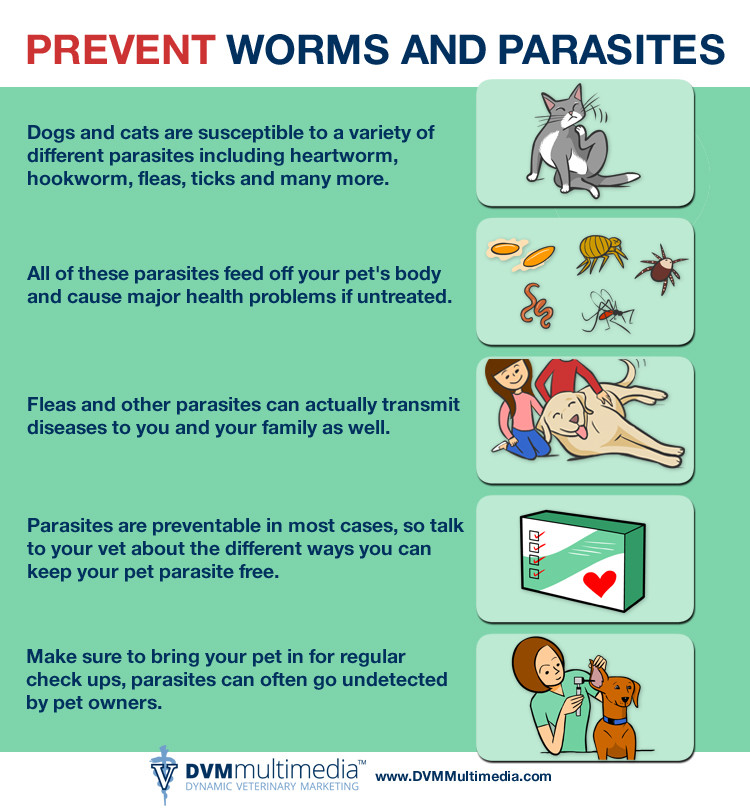 Dogs and cats are susceptible to a variety of different parasites including heartworm, hookworms, fleas, ticks and many more. 
All of these parasites feed off your pet's body, and cause major health issues if untreated.
Fleas and other parasites can actually transmit diseases to you and your family as well.
Parasites are preventable in most cases, so talk to your vet about the different ways you can keep your parasite free. While external parasites (like fleas and ticks) are easy to spot, internal parasites are more dangerous and can easily go undetected.
Some of the internal parasites to watch out for include:
Heartworms – Common in Texas, heartworms can seriously damage a dog's heart and lungs. Heartworms are spread through mosquito bites. We recommend keeping your pup on heartworm parasite prevention, either with monthly tablets or an injectable preventative.
Tapeworms – Tapeworms are parasites that dogs usually get by ingesting a flea. They cause general discomfort, rarely harming the host. Unlike other worms, tapeworms can easily be spotted as whiteish flecks in dog feces, about the size of a grain of rice.
Hookworms – Hookworms are frequently passed to puppies through the mother's milk, or even in utero. While it isn't a problem for adult dogs who have built up an immunity, the puppies are more at risk, and should be treated with a dewormer medication.
Whipworms – Whipworms are less common than other internal parasites, with symptoms ranging from none to bloody diarrhea and vomiting. They can be avoided with monthly preventative and treated easily with a dewormer medication.
Roundworms – As with hookworms, roundworms are frequently passed to puppies through the mother. Infections can cause liver damage & intestinal blockage (mild cases generally result in a 'potbelly' and a puppy with a dull coat and dry skin). It can be transmitted to humans through dog feces.
Puppies are at the most risk, since they don't have any immunity built up to protect against these internal parasites. Several types of worms, such as hookworms and roundworms, are passed through the mother's milk to her pups, who then get infested. Fortunately, these parasites can easily be treated with medication.
Further Reading
http://www.akc.org/content/health/articles/parasites/
http://www.pethealthnetwork.com/dog-health/dog-diseases-conditions-a-z/intestinal-parasites-dogs